Posted on Wednesday, February 09, 2022 08:11 AM
Special Council Meeting - February 7, 2022
Public Meeting - Amendment of Building Fees
The Ontario Building Code Act, established in the mid-1970s, outlines the minimum standard for designing and constructing all new buildings, additions, alterations, and change of use of existing buildings in the Province of Ontario. The municipality's responsibility is to enforce the Building Code Act and charge fees to defray the cost of
enforcing the code with the issuance of permits and inspections.
The...
Posted on Monday, February 07, 2022 02:39 PM
Immediate Release
Ramara/February 7, 2022 - In response to the gradual reopening announced by the Province, the Ramara Recreation department will offer in-person pop-up classes starting February 15, 2022. As well, the Ramara Township Public Library will also resume in-person services on February 15, 2022 starting at 10:00 a.m. at both branch locations.
The pop-up classes will feature some of Ramara Recreation's popular programs for adults and kids, including Yoga, Zumba, Pickleball, and Friday Night...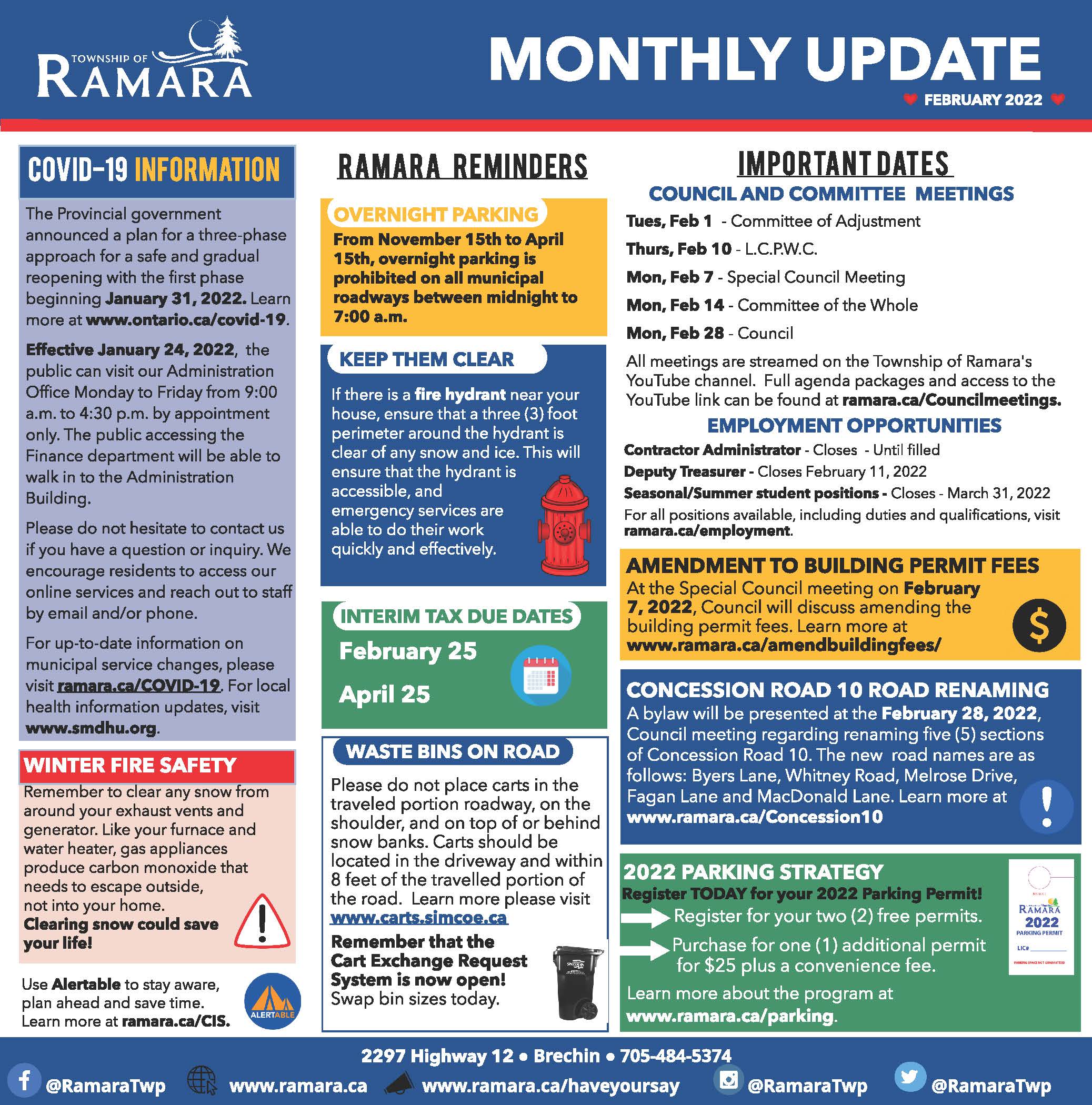 Posted on Thursday, February 03, 2022 08:24 AM
Check out this month's Ramara Bulletin. Residents can find this publication in the Orillia Today paper on the first Thursday of each month. Ramara's goal is to ensure that residents are well informed and engaged in matters. This initiative started in May of 2021, and all editions can be found on our Stay Informed page.
Posted on Friday, January 28, 2022 08:31 AM
Ramara/January 28, 2022 - On Monday, Council approved to create two on-street paid and resident permit parking locations for visitors and residents accessing Lake Simcoe.
In the next 2-3 weeks, visitors and residents who want to access Lake Simcoe will be able to park in these two locations:
On-street paid parking on the west side of Courtland Street from Lake Simcoe to a safe spot on the road north of Orkney Beach Road.
On-street paid parking on Lake Avenue from Simcoe Road to a safe location on...
Posted on Thursday, January 27, 2022 10:45 AM
Council - January 24, 2022
Mayor Update
Welcome, Jessica Gunby! Jessica began her role as our New CAO on January 24, 2022. On behalf of Council, Deputy Mayor Gough thanked Zach Drinkwalter for his leadership over the past four (4) months
CAO Update
Jessica thanked everyone for the warm welcome and advised that she would like to meet with each Councillor one-on-one to address concerns, projects and initiatives important to them and their ward. Jessica extended the invitation to...