Posted on Friday, March 11, 2022 09:40 AM
Annual Drinking Water Summary Report
The 2021 Annual Drinking Water Summary Reports have been completed and are available for viewing at ramara.ca or at the Township Administration Office located at 2297 Highway 12, Brechin.
Posted on Thursday, March 03, 2022 04:16 PM
Council Meeting - February 28, 2022
Mayor Update
Mayor Clarke opened the meeting and advised that the public can watch the Ontario Land Tribunal hearing regarding Fowler Construction Limited quarry licence extension application on the Ontario Land Tribunal YouTube channel.
Mayor Clarke welcomed a hometown hero home, Erin Ambrose, a defence player for the Olympic Woman's hockey team that won gold at the 2022 Beijing games. Erin, who resides with her family in Joyland Beach, was...
Posted on Wednesday, March 02, 2022 04:16 PM
Reduced Water Pressure
Furniss Crescent and Stephen Drive


South Ramara Water Distribution System - This notice is to advise water users in this area that we are experiencing an emergency situation at this time with a broken water service in the water distribution system.
Contractors are on-site but it may take several hours to repair the service and users of this municipal water distribution system will be with limited water during this time. System pressure will be restored as soon as possible.
We...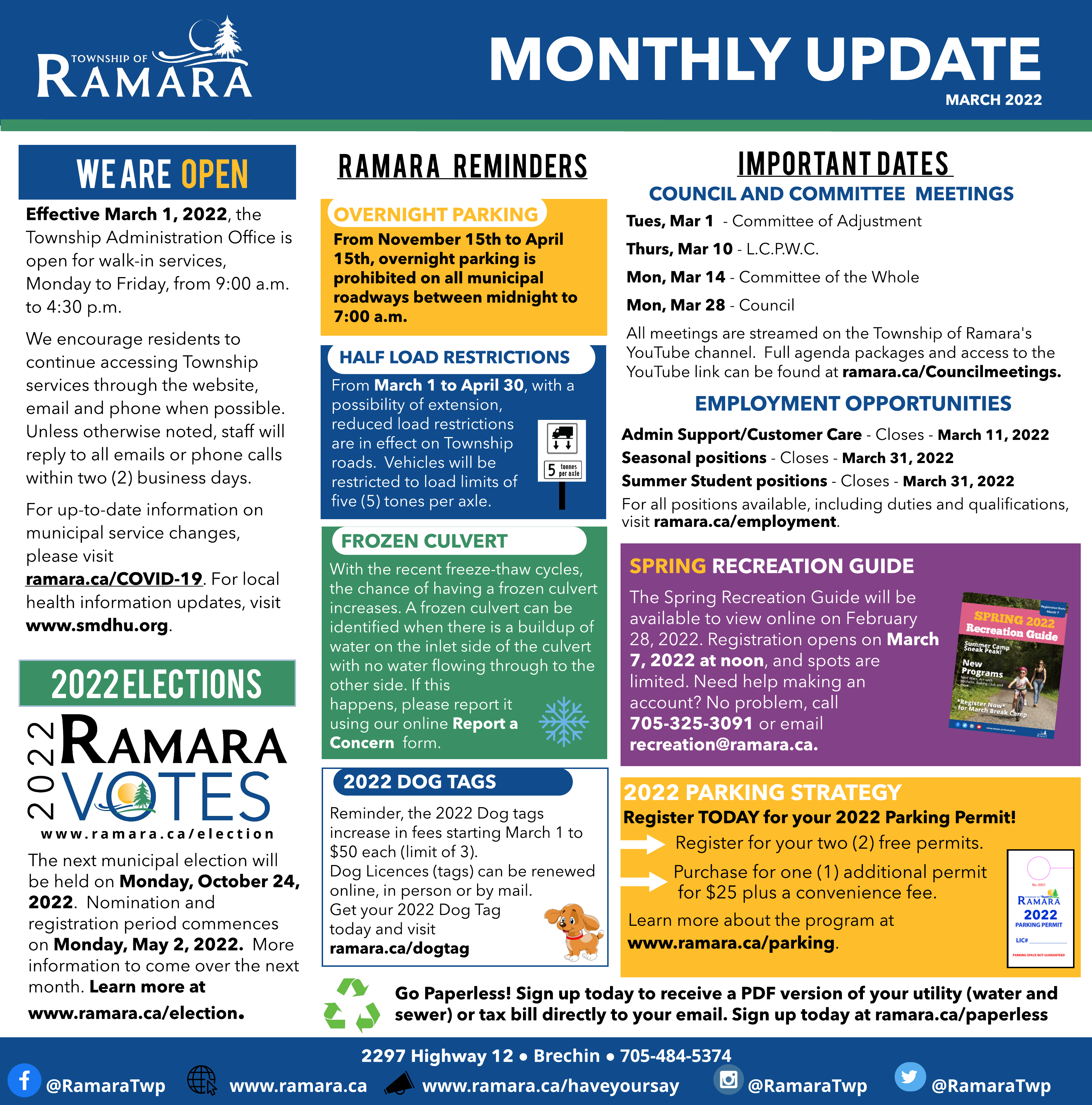 Posted on Wednesday, March 02, 2022 01:13 PM
Check out this month's Ramara Bulletin. Residents can find this publication in the Orillia Today paper on the first Thursday of each month. Ramara's goal is to ensure that residents are well informed and engaged in matters. This initiative started in May of 2021, and all editions can be found on our Stay Informed page.
Posted on Tuesday, March 01, 2022 09:08 AM
IMMEDIATE RELEASE
Ramara/March 1, 2022 - The Township of Ramara has developed an online Zoning interactive layer for the public to learn about planning rules on individual properties.
Over the past two years, the Township has expanded its interactive layers and access to information and tools for collecting data. The public can access information related to the following:
Zoning and Land Use Planning
Septic Reinspection Program
Short-Term Rental Accommodation Program
Wards
Trails
Bylaws
"The...